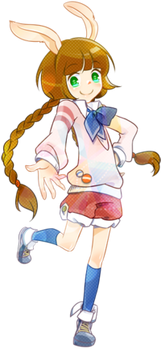 Mimi, voiced by Rie Murakawa, is one of the characters from Pop'n Music, where she and her best friend Nyami are the mainstay mascots of the series; but they were only heard as announcers since Pop'n Music 19 TUNE STREET, Pop'n Music portable 2 and singers for TWINKLING in Pop'n Music Lapistoria, where she holds a jeweled lapis that is pink.
Personality
Edit
ニャミの親友かつ合い方。性格はニャミとそっくりなんだけど、
どちらかと言うとニャミがツッコミで、ミミがボケのような感じがするね。
Nyami's best friend and partner. Her personality is identical to her's,
although she is the sensible one, Mimi thinks everything feels blurry.
Mimi is one of the two main mascots of Pop'n Music. She is identical to Nyami's appearance, but she is a rabbit, who is a talkative, imaginative girl. She was alongside with Nyami, who was her best friend, when she first met her during the Pop'n Music auditions, where they've been close ever since. They often star in TV programs together, such as talk shows and dramas, although she and Ryuta have emotional thoughts for each other.
One of Mimi's favorite hobbies are chatting and shopping, where she seems to be searching for adorable accessories that catch a twinkle in her eyes. She also loves rabbit goods, but hates tomato juice.